Baby Boy Gibbon Born at Animal Kingdom
2/15/10 For the fourth time since its founding, Disney's Animal Kingdom® has welcomed a new member to the family of white-cheeked gibbons that live in Asia. A baby male was born on February 2 to Melaka, the mother of the family that also includes two daughters, Suki and Tuyen.
White-cheeked gibbons are an endangered species indigenous to southeast Asia.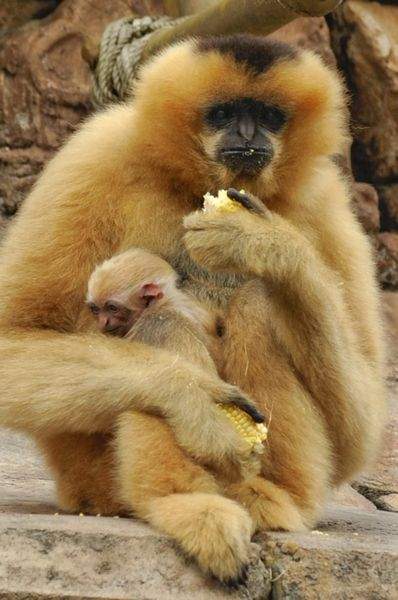 The male has not yet been given a name. He will keep his golden fur until he is weaned - this way, he blends in with his mother as he clings to her fur. Like his sisters, he will gradually shift to black fur, but unlike them, he will keep that color past the age of six, when they will revert to the golden color of their mother.
Gibbons can live as long as 40 years, although the typical longevity of captive individuals ranges from 25 to 30 years. Interestingly, the gestation period for these primates is very close to that of our own species, about eight months, and they typically space their children by two to three years.
The Animal Kingdom participates in the Association of Zoos and Aquariums (AZA) Species Survival Plan for gibbons (as well as many other species, such as elephants, cotton-top tamarins, okapi, and western lowland gorillas). The SSP manages and conserves genealogical diversity among threatened and endangered species by maintaining databases of the captive population among AZA members.